My MawMaw…. Mary Ella Hawley
March 27, 2011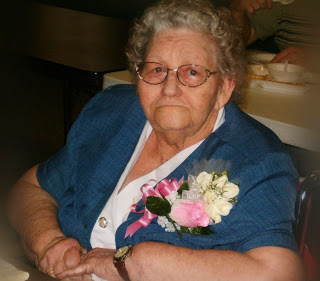 My MawMaw went home to be with Jesus last night. I haven't slept and the tears don't seem to end.
She was so precious – and I loved her so much.
I'm heartbroken, yet I smile through the tears as I remember…
She made beautiful blankets, hand-stitched. I sleep under the one she made for me when I got married. She stitched our initials and wedding date on the hem… I'll treasure it always.
She grew flowers – lots of them. I remember the four o'clocks for some reason.
We hid Easter eggs in her flower beds as kids… and ate raw potatoes while she cooked… and she made cobbler with the blackberries we picked.
Everybody loved her – there was no reason not to.
She held my new baby just a month ago. I'm happy he met her and she held him.
She had her 81st birthday just this month.
She made the very best fried chicken and homemade biscuits on the planet. No matter how hard I try – I can't get 'em right like she did.
She had 6 children, 15 grandchildren, and more great grand-children than I can count right now. She adored them all.
I just realized I now have 6 children like she did. That makes me smile.
I wish I had visited her more and hugged her tighter. Life is fragile and regret hurts.
I love you MawMaw.