My life cannot be summed up by my Facebook posts.
Recently I came face-to-face with someone in a bad situation.  I won't share details to protect her privacy, but it was maybe the most desperate situation I've encountered in a long time.
She was desperate for God.  Desperate for help.  Desperate to change her life, her behavior, her circumstances.  She was crying and pleading for happiness and peace.
In the midst of this turmoil and begging for help, she looked me in the face and said, "I'm such a failure… I just see your Facebook posts and …" and she went on to imply that I had it all together.  That my life was perfect and even that I was perfect.
Her perception of me grieved me.  My life cannot be summed up by my Facebook posts.
Yes, I share the best of me online.  I think that's what most of us share.
Because it's just not fun to share the ugly.  I'm not superwoman.  I don't have it all together – not even close.   Every time someone says those things to me… I cringe.
Let me assure you: I am not perfect.  
Let me tell you about me.
Yes, I am a Christian.  But I am a struggling Christian who has very recently doubted my faith and salvation.
I don't read my Bible every day (although I am working on that) and I sometimes wake up on Sundays and just don't want to go to church.
I get angry and hurt and hold grudges.
I get jealous, I sometimes gossip and hurt people with my words.  I unfairly attack my husband when I've had bad days.
I have my priorities out of order and wonder if I'll ever figure out how to get them in order.  I know I can with God's help… but I don't always ask for it.
Yes, I homeschool my kids.   But we skip days often and sometimes we skip entire subjects when I just can't get it together.    In 12 years of homeschooling, we've never finished a curriculum from beginning to end.  Do you remember our first day of school this year?
Yes, I have friends…. but not many.   I often feel very lonely because my closest friend in the world lives in Italy and it's not easy to make friends as a homeschooling Mommy living in the sticks.   Lots of people know who I am… but very few really know me.
I'm insecure and I doubt myself always (don't ask how many times I've edited this post or questioned whether or not to share it at all…)
Yes,  I am a housewife.  But my house is a wreck.  And I'm not one of those people who has one shoe out of place and calls it "a wreck".  When I say "a wreck" I mean my floors are sometimes so gross that I can't walk in my kitchen bare-footed and I often can't get a glass of water because my sink is eternally full of dishes.
There are at least 5 loads of laundry that have been piled up on my couch for days and I had to choose what to wear to church this week based on the only pair of clean pants I could find.
Yes, I am a mother (or "Mommy" actually – that's what my kids call me).   A mommy who often lets my kids watch way too much television and play way too many video games.
A mommy (and cake decorator) who forgets to plan her own child's birthday party or make him a cake.  Yes, I did.
A mommy who sometimes lets the last thing I say to them at night be "Get in the bed NOW or I'm going to LOSE IT!!" instead of a bedtime hug and kiss and prayer.
A mommy who really doesn't like staying at home all the time, but is too lazy and/or tired to go to "park day" or "game night" with our homeschool group.
A mommy who is 60 pounds overweight and hates it, but really doesn't have the will power to say "no" to chocolate or that extra serving of scalloped potatoes or "yes" to my treadmill or one of the many exercise DVD's I've wasted money on bought.
Yes, I have 6 beautiful children.  Children who scream and fight.  Children who rebel and disobey.  Children who almost never clean their room without complaining and being told a hundred times.   Children who don't get a bath every day… or even every other day.
Yes, I take pretty pictures of cakes.  But my little photo zone is pretty on purpose.   But I've had major cake failures – pictures I've never shared because the customer was upset and I cried the ugly cry and I was too embarrassed by the whole thing to even consider telling you about it.
Yes, I'm a blogger.  But I'm on the computer way too much and I can't for the life of me follow any kind of blogging schedule.   Most of my family doesn't even read my blog and some don't understand what a blog even is.
I have very few blogging friends and none that I can call close friends.  I'm never in the "in" crowd when it comes to food blogs or baking blogs and I don't have a "network" that I really consider myself part of.
Blogging is a lonely, lonely job and if not for readers and those who leave comments, I'm sure I'd have quit ages ago.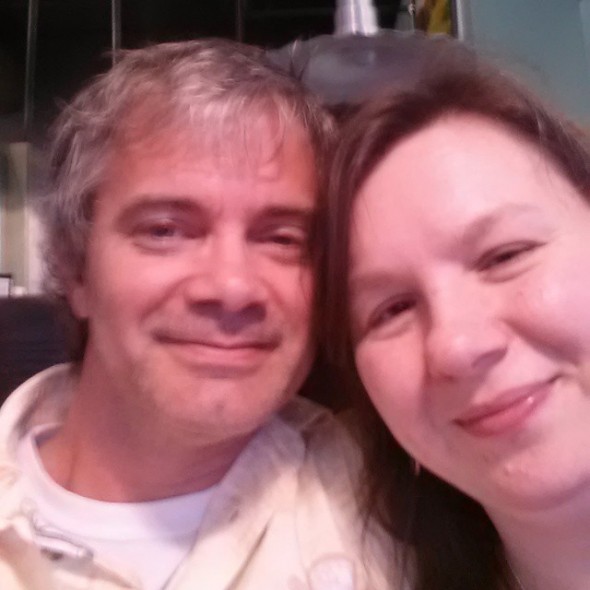 Yes, I have an amazing husband and a solid marriage.   But he's not perfect either.  We spend much of our life together now laughing and loving, but we still fight and we don't always fight fair.
He cooks wonderful meals and takes care of me like no one else could…. but sometimes he watches too much football and doesn't always pick up his dirty dishes.
He is a good man, an amazing Daddy and the perfect husband for me.  But he's not perfect, I'm not perfect, and neither is our marriage.
We've gone through very, very hard times and it's taken us many years and lots of tears to get where we are now.   We've been dishonest with each other, we've hurt each other – and thank God we stuck together because there were times it seems like it would've been easier to walk away.
So why am I telling you all of this?  
Because it's so easy to look at someone's blog or Facebook timeline or Instagram feed and think they have the perfect life… they have it all together.  And then we start to look at ourselves and feel like failures.
I know this because I do it too!
And I have to remind myself… most people only show the world "the best" of their life.
People share the cute or funny pictures of their kids – not the screaming fit they had in the grocery store.
They share the perfectly cooked meal – not the breakfast they burned or the disastrous kitchen in the background or the cereal they served their kids for supper because they were too lazy and tired to cook a real meal (yes, I'm talking about me).
They share the perfect new outfit – not mentioning that they had to buy a size larger than the last time they bought clothes.
Or my favorite… they share the amazing vacation photos (those are the ones I'm always truly jealous of) – without telling us how many times they sacrificed a meal out to save for that trip or instead the massive debt they accumulated because they don't save at all but spend money they don't have.
Nobody's life is ever as perfect as it might appear online.  It's just not.
So the next time you're browsing Pinterest or Facebook or Instagram, getting more and more depressed because your life isn't like those you see online – SNAP.OUT.OF.IT.
All of those pictures aren't real life, or if they are, they're certainly not all of their real life.
The Bible clearly says that "for all have sinned and fall short of the glory of God".   All means all.  We all have imperfections and short-comings and sins.   You can't let the fact that you don't see the imperfections of others make you feel like you're the only one with imperfections…  it's just not true.
But there's good news too…  [the Lord said] "My grace is sufficient for you, for power is perfected in weakness."   While I am not the perfect Christian, wife, mother, housekeeper or anything else… He provides His grace and mercy to me (and it's new every day!) and he uses my weaknesses for His glory.
He promises that if I keep seeking Him, He will continue to work in me.  And that is enough.  It's enough for you and enough for me.
Matthew 6: 32-34   |  For the Gentiles eagerly seek all these things; for your heavenly Father knows that you need all these things. But seek first His kingdom and His righteousness, and all these things will be added to you. So do not worry about tomorrow; for tomorrow will care for itself.  Each day has enough trouble of its own.  (bold letters added for emphasis by me)
Phillipians 1:6  |  For I am confident of this very thing, that He who began a good work in you will perfect it until the day of Christ Jesus.  (bold letters added for emphasis by me)
I love you all… my friends and readers and I'm so glad you're here to read about my sometimes boring life or my pretty cakes or anything else I've chosen to share – but please know – you're  never seeing the whole picture!  
I'm a real person, with real problems, real faults, and a real very imperfect life.  
Update: This will be my Day 14 in the 31 Days 2013 Challenge.  I'll be back tomorrow with a "regular" journal entry.