17 Ordinary Things I've Never Done…
17 Ordinary Things I've Never Done…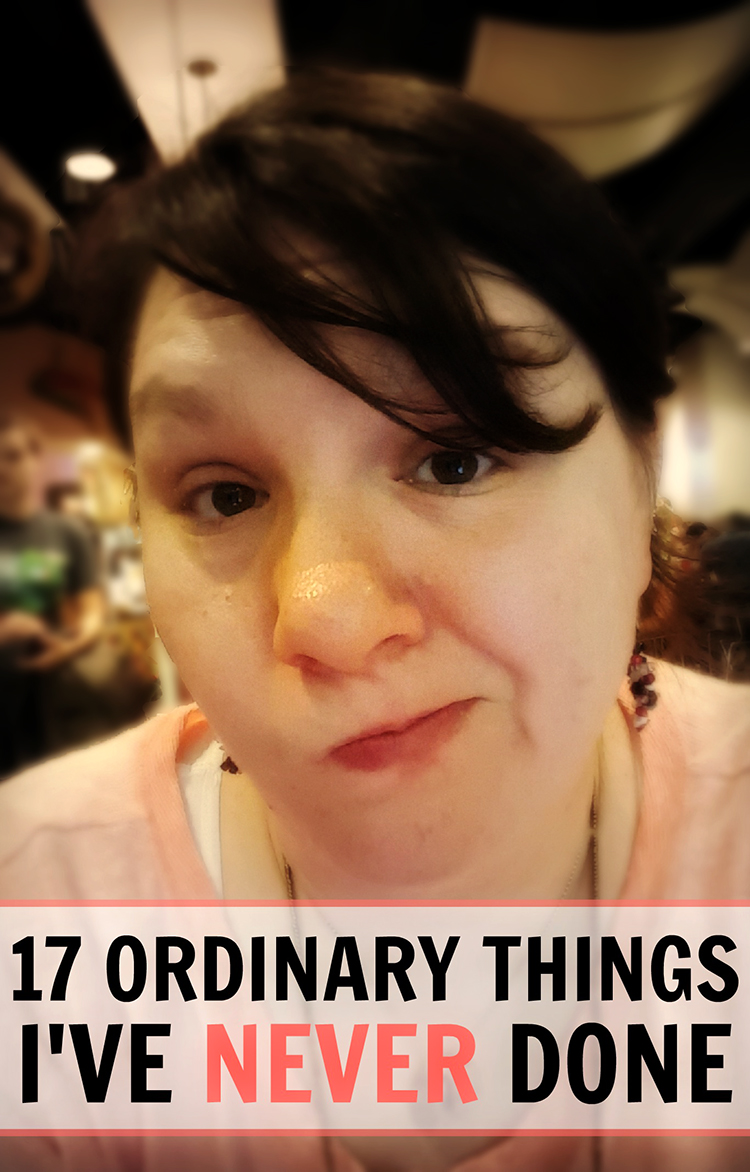 This post is just for fun.  It's meant be lighthearted … not serious.  I'm fully aware that many of these things would not be considered ordinary for a lot of people… but I tried to cover a broad range of activities 🙂
 1.  Had surgery.
Other than having babies, I've never been hospitalized at all.  I started to add that I haven't ever had a broken bone, but it seems like I cracked a finger at a sleepover when I was a teen.  I don't think it had to have a cast or anything… maybe a splint?  It obviously wasn't too bad – my memory is very fuzzy!
2.  Been to New York City.
Or any of the New England states actually…  I've visited 38 states (I think) and it's on my bucket list to visit them all.   When I was younger, I really really wanted to go to New York City.  These days, it's farther down on my wish list, but still, it would be cool to go.
3.  Failed a class.
I honestly don't think I've ever even gotten a "C" that I can remember… elementary through college. Yeah, I'm a nerd!  And I loved school and was seriously competitive about getting good grades!
4.  Gotten a tattoo.
I have seen some really pretty, really meaningful tattoos and I don't have a problem with someone else having a tattoo… but needles?  Never in a million years voluntarily.
5.  Smoked anything.
That's right… I've never smoked a cigarette or cigar or…. anything.  I've actually never had any desire to smoke – even when the cool kids were doing it 😉
6.  Read Harry Potter Books or watched the movies.
Aside from the witchcraft element, which I have moral objections to, I just don't enjoy about 90% of the sci-fi/fantasy books and movies out there.  I also haven't watched/read the Chronicles of Narnia or The Lord of the Rings… just not my thing!
7.  Been drunk (or drank a beer).
Yuck.  The smell alone is enough to keep me from trying a beer and well, I've seen alcoholism up close and personal in my extended family enough to keep me from ever drinking enough to get drunk.  I occasionally enjoy a wine cooler or a single fruity frozen "girly" drink, but that's the extent of my drinking.
8.  Left the USA.
Well… I might be fudging it a little here.  We were at a port in Mexico on our cruise… but it really didn't feel like being out of the country 😉 .  It was a highly touristy place and well… not all that impressive.
9.  Watched "classic" movies. 
I can't say I've never seen any classic movie, but very, very few.  I've never seen Casablanca, Wizard of Oz, Gone with the Wind, The Godfather movies, John Wayne movies, Breakfast at Tiffany's, It's a Wonderful Life, White Christmas, …. I could go on all day.  I actually can't name a classic movie that I have watched.
10.  Ran a 5K.
I've tried several times but ultimately I've ended up walking part or all of every single race.  I should note… I hate running or even jogging.  So I don't foresee me trying this again.
11.  Been able to whistle.
This is actually a running joke between my hubby and I because this topic somehow that came up when we first met and he said he'd teach me … it was like his "pickup line"… and 20+ years later, I'm still waiting 😉
12.  Bought a lottery ticket.  
I've been tempted, but I guess I'm too cheap when the odds are so insane!
13.  Read (most) classic novels.
This is right in line with the classic movies, I guess.  War and Peace, Moby Dick or The Catcher in The Rye (and probably many, many more classics!)  Of course, I've read some that were required in high school and college, but other than the Bronte sisters' books, I couldn't name a single one or remember any of the story lines.  And the funny thing is, I love to read!  Just not old stuff.. haha!
14.  Cooked a Thanksgiving turkey (what??!?!?!?!).
When this occurred to me, I asked my husband for verification, but yeah… I've never personally cooked one.  Growing up, my MawMaw always did it.  Then my Mama & Daddy started doing Turkey Breasts and I'd do a ham.  But I'm 99% sure I've never personally cooked a turkey for Thanksgiving.
15.  Never been to Disneyland (or Disneyworld).  
Several years ago we had a chance to go with Richy's family, but the timing was really bad (we had a newborn and he had just started a new job), so we turned down the chance and well… it's honestly not something I have any desire to do unless we win a trip or something… ha!
16.  Eaten a Big Mac.
What can I say?  That orangey Thousand-Island-ish sauce …. ewwww!  Burgers deserve mayo, ketchup and even mustard… but Thousand Island?  No.
17.  Worn make-up on a regular basis.  
I might wear make-up once or twice a month… rarely more than that.  Never have liked it much… even as a teenager!
I would love to hear… tell me the ordinary things YOU have never done?  Or what have you done that's on my list?