I don't have the patience to homeschool.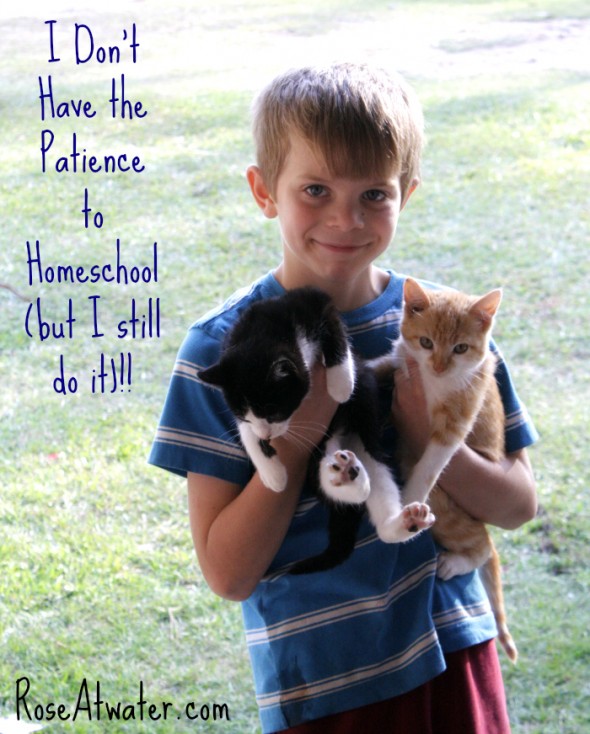 One of the things I hear the most about homeschooling (or not homeschooling) is, "I don't have the patience to homeschool."
Well let me tell you.  I. Don't. Either.
Just today I lost it over and over again when trying to teach my children.
My son missed the same three spelling words for the third day in a row (we use Spelling Power where there's a daily quiz and you repeat the words you missed the day before).
And my other son completely forgot how to sound out long vowel words when there's a silent "e" on the end.  Something we've been learning for weeks.
And yet another son (I have five boys ya'll)… kept "forgetting" that he was supposed to being do schoolwork and wandering off to play with the new kittens that magically appeared at our house.
And I kept finding myself "losing it" with them.
Why won't they just do what they're supposed to do?  
Why can't they remember things we've already learned?  
Why won't they sit still?  Finish their lesson?  LISTEN TO ME???
But then I realized there was a more important question to ask…
Why can't I react in a more godly way – with love and patience – instead of with yelling and exasperation and anger?  
Why, after being a homeschool mommy for the last 12 years am I still making the same mistakes and falling into the same pitfalls year after year?
Why can't I get it right?
Here's why:  I don't have the patience to be a homeschool mommy.  And yet, I am one.
So how do I do it?
With God.
What matters is that He is everything I'm not.  Our heavenly Father is glorified in our weakness.    He is strong when I am not.  He is patient when I am not.
He fills in all the gaps where Rose is not enough.    And every single day of homeschooling… I.am.not.enough.
So the next time you hear, "I don't have the patience to homeschool"  or the next time you say "I don't have the patience to homeschool"… remember that we don't have to have all the patience in the world.
We just need to have the One who can give it to us living in our hearts.
But he said to me, "My grace is sufficient for you, for my power is made perfect in weakness." Therefore I will boast all the more gladly of my weaknesses, so that the power of Christ may rest upon me.    2 Corinthians 12:9