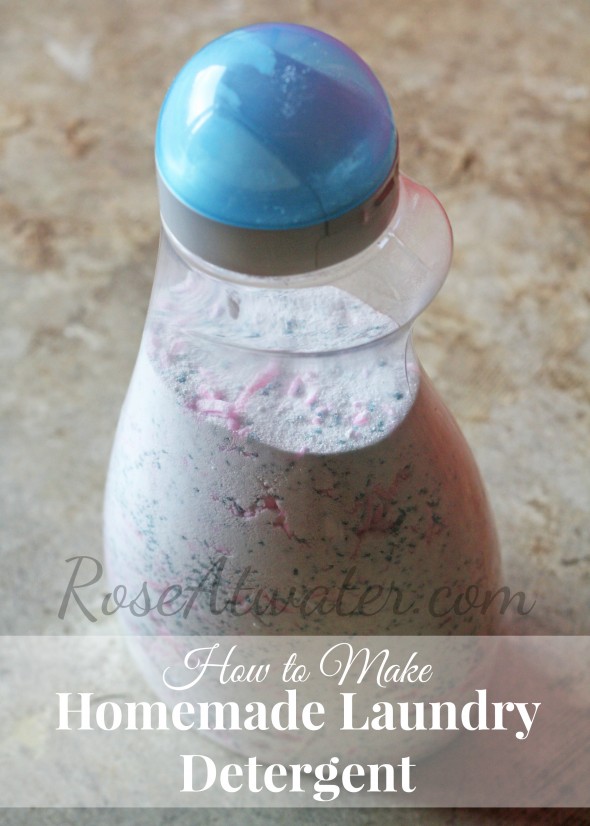 Months ago I posted a picture of this homemade laundry detergent on Facebook.   Some of my fans asked for the recipe to make it, but I didn't really feel like that topic "fit" over on RoseBakes.com, so I saved the idea until I could get RoseAtwater.com up and running… so here it is!
Let me first tell you that I found this recipe over on How Does She? and if you want lots of pics and details, please visit that post!
Before I share the recipe, let me tell you my experience with it.  I made my first batch on June 3, 2013.  Today is September 5, 2013 and I still have more than half of it left.   I keep the bulk of the detergent in a plastic trash can with a lid and refill the small bottle around the 1st of each month.  It lasts an entire month.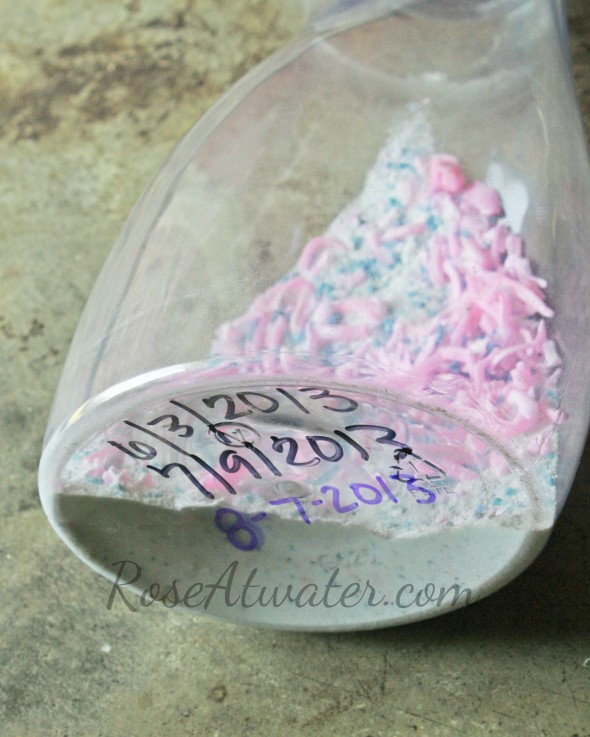 I'm a little bit obsessive sometimes so I've been writing the date on the bottom each time I refilled it just to keep track.  You can see that it's almost time to refill again 😉
To give you a little more perspective, we have 6 kids.  We do 2-3 loads of laundry on a typical day and we usually do that 5-6 days a week.   That's a lot of laundry.  A lot.  
Update:  This recipe lasted my family from 6/3/2013 to 11/20/2013.  That's about 5 1/2 months of laundry detergent for a family of 8 (I average 14-16 loads of laundry per week).  
This detergent smells good, lasts a long time and is dramatically cheaper than store-bought detergent.   I wish I had an actual cost break-down (and I will update with the cost the next time I buy all of the ingredients), but I'm 100% certain that it's saved us a TON of money!
Also, when restocking to make more, I saved my receipt and the "ingredients" cost me $27.38 at Walmart (I was able to get everything there this time).    Under $30 for 5 1/2 months of detergent., … so just under $5 a month or around $.16 per day.   I guarantee I'd spend a lot more than that buying even the cheapest detergent from the store and this detergent smells great, works great and we just love it!
Two more details and then the recipe:
* The first time I made it I grated that pink Zote soap.  Next time I'll microwave and crumble it because the grated soap sort of clogs up the spout on the bottle and makes it a pain to pour.
*I live way out in the country and my shopping options are incredibly limited.   However, I was able to find everything listed below at Walmart (about 40 miles from my home) except the washing soda – I had to order it online!
Anywho… here's how I made it:
Homemade Laundry Detergent

Ingredients:

1 (4 lb 12 oz) box of Borax

1 (3 lb 7 oz) box of Arm & Hammer Super Washing Soda

1 (3 lb) tub of OxyClean

2 (14.1 oz) bars of Zote Soap (see How Does She? for other options!)

1 (4 lb) box of Arm & Hammer Baking Soda

1 (55 oz) bottle of Purex Crystals Fabric Softener


Directions

1.  Microwave and crumble the Zote soap (or grate it, but personally, I'll microwave next time!  See how to do it here!)  After trying grating, microwaving and pulverizing with a food processor – I highly recommend  the food processor!!  It worked SO much better than either of the other methods!  I just cubed the Zote into 1 inch squares, dropped it in with maybe half of a cup of one of the other powdered ingredients, then processed it until it was small "pebbles".  Love it!!

2. Stir all of the ingredients together in a large container – I bought a 10 gallon trash can with a lid and store mine in that!

3. Scoop 2 -4 tablespoons into each laundry load.  (I use 2 tablespoons per load and have no complaints!)
And that's it!   You'll have months and months worth of wonderful smelling and cheap laundry detergent!      I love to hear from readers, so please leave me a comment telling me about your experiences or plans for homemade laundry detergent!