DIY: Recycled Pallet Ceiling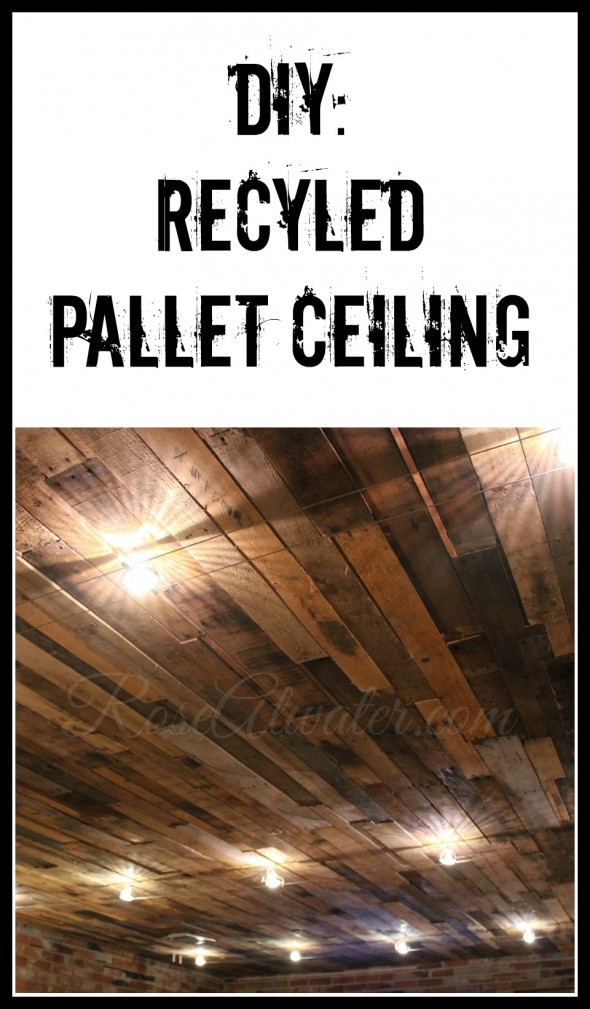 We've lived in this house for almost 5 years and finally, we have almost finished updating one room.   Ha!  I would say we've reached 99% done on our family room.  My husband worked for over 4 months on doing the Recycled Pallet Ceiling.
Granted, if he didn't work full time and we didn't have other things going on all.the.time, it wouldn't have taken so long, but he was only able to work on it on weekends (and not even every weekend) on and off  from April to August of last year.
I have a few progress pictures, but not really a "tutorial" per se.  I can just tell you that my husband broke down over 55 pallets (they were FREE; given to him at work – they were being discarded), then used his saws to cut them and puzzle-piece them together.  We originally planned to do straight lines but neither of us realized that pallet boards are not all created equal.
In other words – they weren't all the same width.  So instead of ripping them all lengthwise to be the same width – he decided to make it more random (and complicated and time-consuming)… using the different widths as part of the "pattern", but also more beautiful in the end!!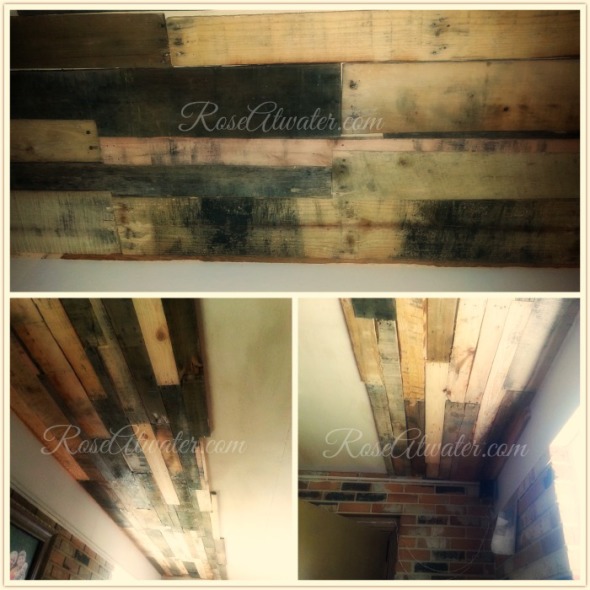 I asked him which saw he used so I could tell you and he said he used his circular saw, jig saw and reciprocating saw.  Do you need all three of these to do this?  My guess would be probably not!?  But he had all of those toys so he might as well use them, right?
A little background:  ages and ages ago (long before we had this house) this room was an open carport, so the ceiling was covered with 4×8 pieces of plywood then painted.  Other than wiping it down and taking down the ceiling fan and existing lights, we didn't prep the ceilings at all.
He just started nailing up the pallet boards.  He'd put one up using his compressor and a nail gun with brads. Then he'd get the next one, mark any places where it needed to be cut to fit together, cut it, then nailing it up.  He did them that way… one at a time…. for months!  PS.   I don't recommend attempting this with a hammer and nails…. it would be an even longer and more painful process!!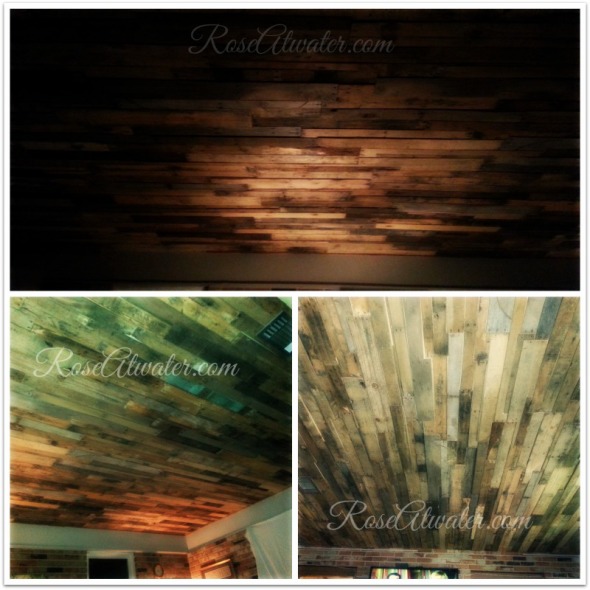 Anywho… these pictures above are of the finished ceiling without lights.   They were taken after dark with hubby's cell phone – with and without a flash, so that's why the lighting is funky!  At the time I wasn't really planning a blog post or I'd have been more intentional with the picture-taking.
After it was done, it was time to add lights.  We really wanted to go rustic and/or industrial.  The floors are done with paper and the walls are brick, so nothing traditional would really "work" in here.
After much debate and going back and forth a hundred times, we finally decided on this wire track lighting.    By and far the lighting cost us more than anything else in the room, but considering the floor was less than $100 and the ceiling only cost about $30 in nails… we had some money in the budget to splurge on lighting.
I have to tell you our 'lights story'.  We looked at those lights several times along with several others before finally deciding.  Every time we looked at them, they were around $150 per box.  We agreed that we needed 3 of them.  We agreed.  We looked multiple times.  Did you get that??
And so we decided for sure and I ordered them.
So after he climbs in the attic and faces all the scary things up there and redoes the wiring and drilled the holes and put them all up and we're done…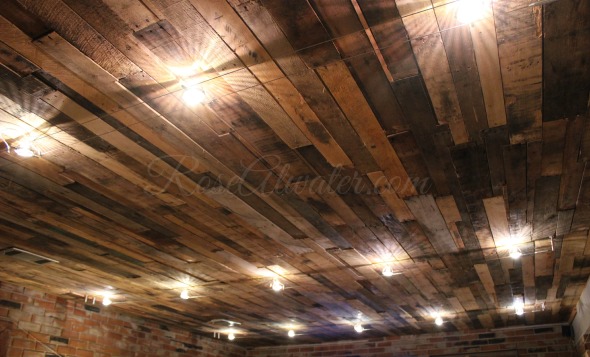 …we're sitting on the couch looking up – admiring our beautiful ceiling… he says something like, "it's so awesome that we got those lights for $150".  And I said, "You mean $450″…
Pause… he looks at me and his eyes got HUGE.  He was genuinely SHOCKED that we spent $450 on the lights.
And then I was shocked that he was shocked.  I couldn't understand why he was so flabbergasted.   Well, it turns out that somewhere in the midst of all the looking and browsing and dollar signs floating around… somewhere it stuck in his mind that it was $150 for three sets.   I never told him that – but somehow that stuck.   When the real price dawned on him… he was momentarily aghast.
But then I pointed out that he had, in fact, agreed to these lights and that the price had been RIGHT THERE every time we looked at them on Amazon.  And I mentioned the whole "cheap floors" and "free wood" and eventually… he was able to laugh about it.  We're still laughing about it if you want to know the truth.  Every time someone compliments the lights, we look at each other and grin and tell our "lights story".
Okay – yes – we're dorky!  Ha!
Anyway… that's it.   We're often asked if the pallets are stained and the answer is "no"!  One or two of them have a blue streaks on them (more turquoise really) and I love the look of that so much that I bought blue paint with the intentions of adding a few more but it hasn't happened yet (and my hubby never fails to point that out to me 😉 ).  But as it stands now – these are completely "natural"…  we haven't changed the color or texture at all since Richy picked them up from work last year!
Do you have any questions about our DIY Recycled Pallet Ceiling?  If so, leave a comment and I'll get my husband to answer for you!  
Linked up at Fridays Unfolded, Flaunt it Friday!